The Netherlands' oldest Viking festival: sold out!
Are you ready for Vikingfest from Saturday 27 until Monday 29 May 2023? During Pentecost well over two hundred Vikings will be invading the preHistorisch Dorp! Meet traders, fighters, artisans, and entire Viking families.
Vikingfest 2023 is completely sold out. There are no more tickets available and there is no waiting list. This includes regular tickets, as well as a surcharge for Museum card holders and admission for children up to and including 3 years old. People with free tickets for 2023 are allowed to enter.
A worldly Pentecost at the preHistorisch Dorp
During the weekend of Pentecost, the Eindhoven open-air museum looks completely different than on a regular day: you run into Vikings everywhere and feel like you're smack in the heart of the Early Middle Ages. And there's not just fighters, but also many artisans who will show you how the Vikings made their goods. Make new Viking friends and emerge yourself in a weekend full of adventures and history!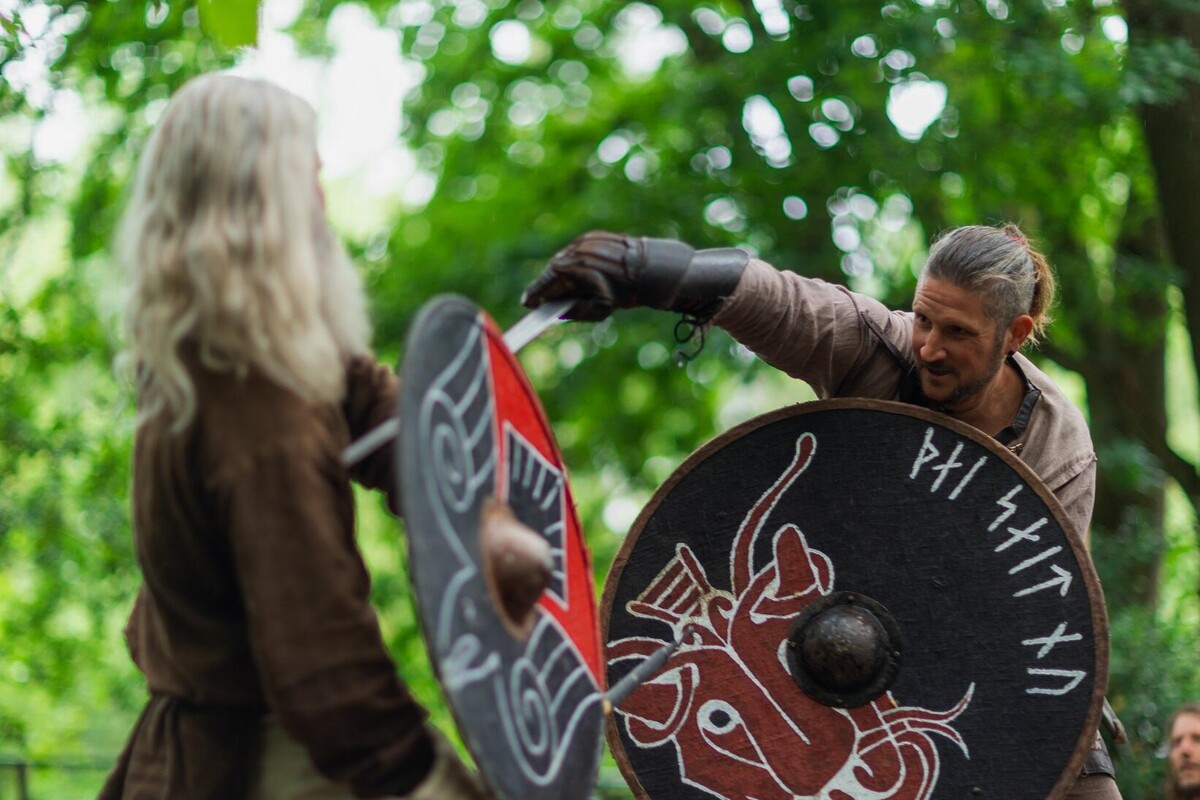 Stroll alongside traders from far and wide
Experience the unique atmosphere of 1300 years ago on the preHistorisch Dorp's market square! This year, there will be dozens of special traders across the museum. Take the smith, with beautiful ironwork, knives, axes, and more. Or visit the jewellery artist for exquisite golden, silver, and bronze jewels. You will really make your accessories shine with handmade glass beads. There are also plenty of materials for clothes: handmade shoes, hand-spun or hand-woven fabrics and many more. Will you be bringing little children? In that case, do make a stop at the stand with a wide variety of children's toys.
At most of the Vikingfest stands you can only pay in cash. There's no cash machine at the park to make a withdrawal, so make sure you bring sufficient cash.
Food & drinks
During Vikingfest you can get a bite and a drink at and near the medieval inn. You can also bring your own food to the museum. Get comfortable on one of the many tree trunks or other seating areas to have lunch. Whether you sit down on the pier, on the grassy knoll near the stands or in the woods: there's plenty of space for everyone.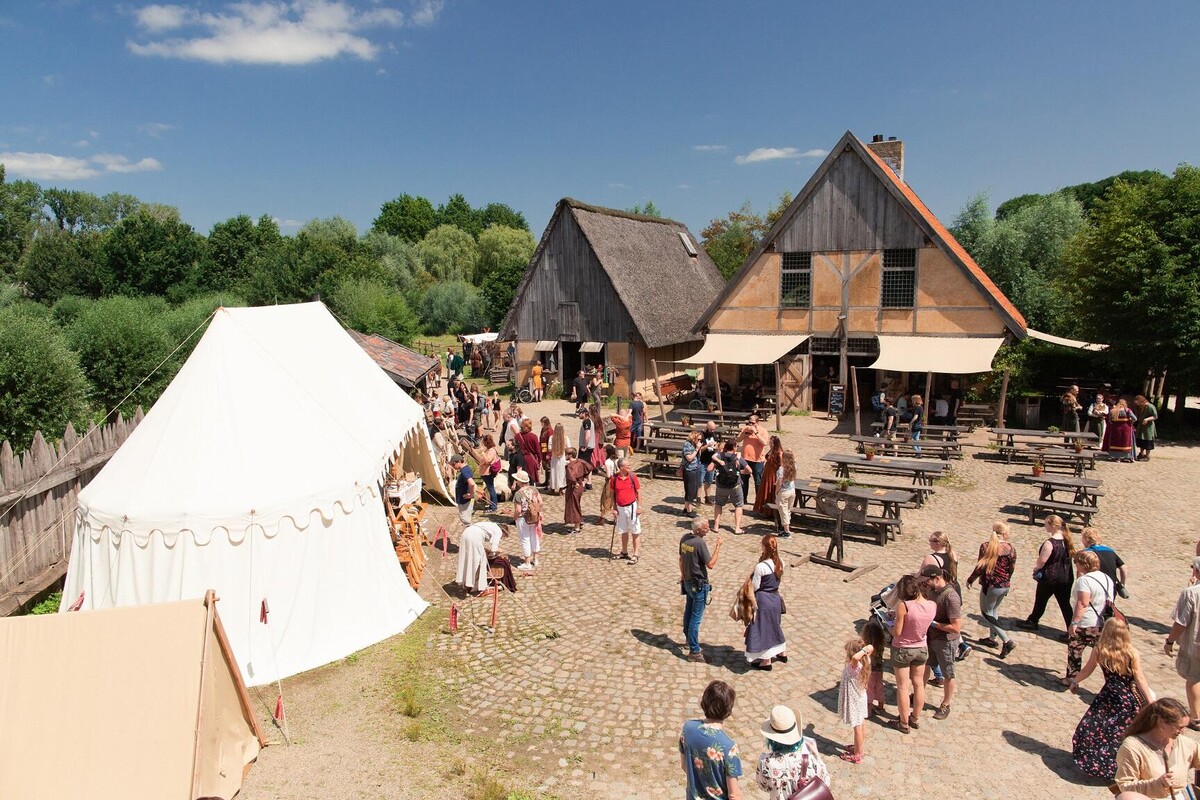 Participate in activities and workshops
During Vikingfest, you can also participate in various activities. How about making your own amulet? Or learning fighting techniques from a Viking boss? Discover the fine techniques of early medieval artisans: from sheep to clothing and from bog iron to iron axe. And there's more… It will be a weekend full of excitement, entertainment and adventure that you'll never forget. Order your tickets on time!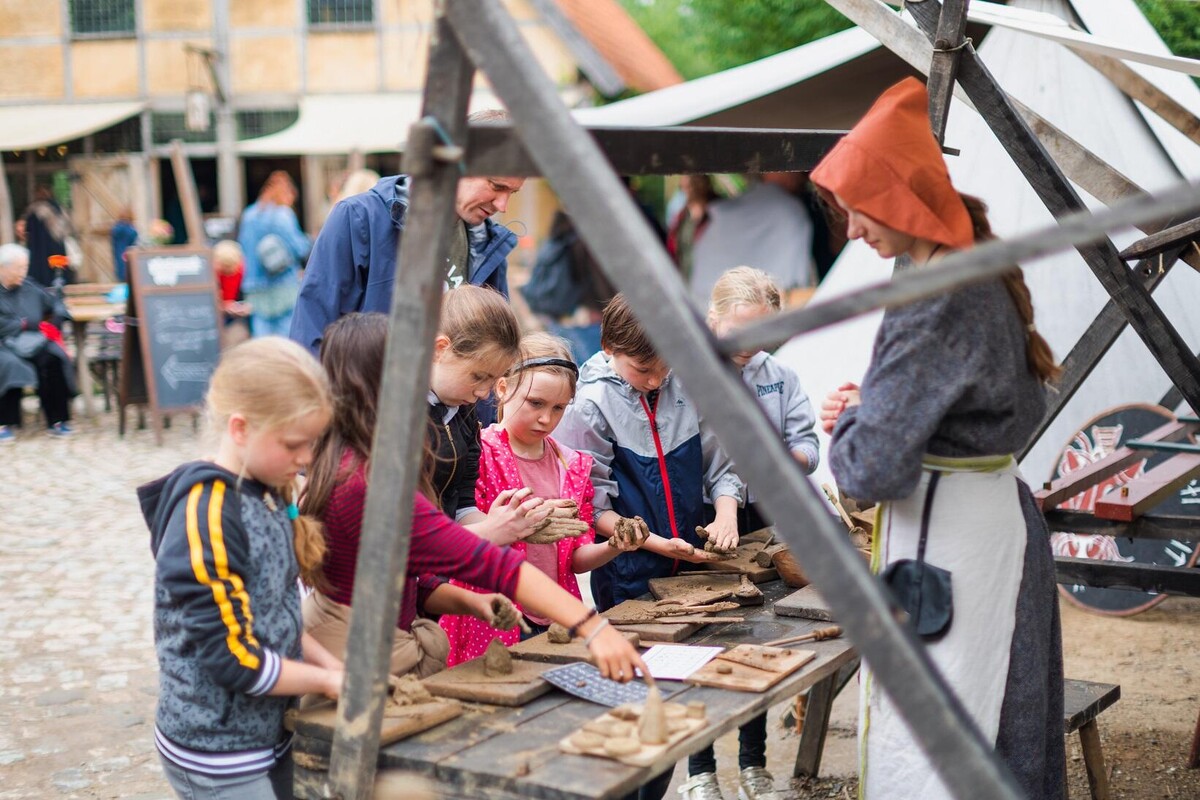 Vikingfest 2023 at the preHistorisch Dorp
Date: Pinksterweekend (zaterdag 27 t/m maandag 29 mei 2023)
Time: From 10:00 AM to 5:00 PM
Price: Online presale until 26 May € 16
Only at the reception desk from 27 May, while stocks last:
€ 17.50 Free for children under the age of 4, with obligatory reservation. Holders of the Dutch Museumkaart pay a surcharge of € 4.50.
Ticket sales: Online and at the reception desk on the day itself, while stocks last. There's a maximum visitor capacity of 1750 visitors per day, so make sure to get your tickets on time.
Note: we welcome rugged Vikings dressed in historical clothes, but leave your weapons at home!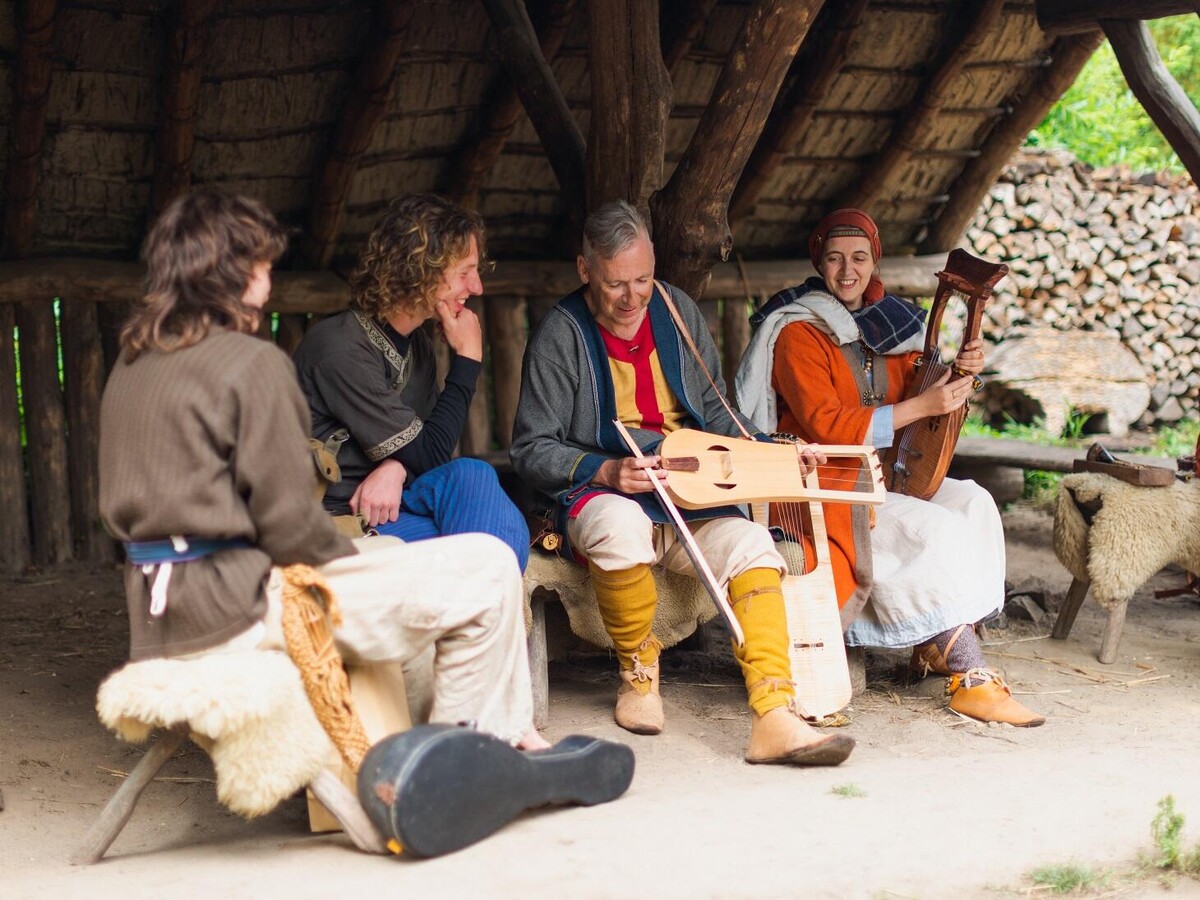 Route and parking
Parking is free near the preHistorisch Dorp. There's ample space for cars at the parking space of the Leeuw Training centre, at Boutenslaan 161. You're then a couple of minutes' walk from the museum. If possible, don't park near the houses in the neighbourhood.
If there's no space left at this location, you can park at Anton Coolenlaan 5. From there, it's a beautiful 15 minute stroll through the green zone Genneper Parken to get to the museum. Along the way you will come across green pastures and wooded areas and can have a bite at Paviljoen Genneperparken or the city farm Genneper Hoeve.
Read all about our address and the route and discover how best to reach us by public transport or by bicycle.

Looking back
If you're curious what Vikingfest looked like last year, there's some pictures of Vikingfest 2022 at the preHistorisch Dorp on this page.